PLEASE NOTE THAT THIS PROJECT FINISHED ON 31 DECEMBER 2021 AND THE WEBSITE IS NO LONGER MAINTAINED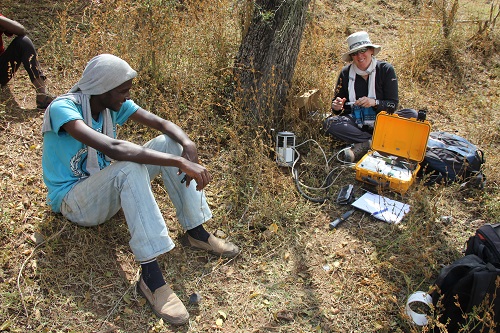 Current understanding of volcanic hazards is largely derived from our knowledge and experience of activity in arc and intra-plate oceanic settings. Continental rift settings, where both effusive and explosive volcanism occur from fissure swarms, volcanic fields and stratovolcanoes, pose a different suite of challenges.
Along the East African Rift (EAR), there is a great variety of volcano types, from large silicic calderas to basaltic fissure swarms, monogenetic cones to off-axis volcanic fields. There is a wide variation in the styles of past volcanic eruptions as well as in the frequency and magnitude of these eruptions.
The threat from large magnitude explosions and their associated hazards in rift settings, particularly in the East African Rift, has likely been highly underestimated. Towns and cities, infrastructure and economic activities in this region are rapidly being developed with little or no regard for the long-term risks posed.
RiftVolc Project
This NERC funded project aims to research past and current volcanism and volcanic hazards in the central Main Ethiopian Rift. The five year (now extended to seven year) long project started in September 2014 and includes BGS, the Universities of Edinburgh, Bristol, Oxford, Cambridge, Southampton and Leeds as well as Addis Ababa University and the Geological Survey of Ethiopia. It is due to finish at the end of 2021.
The project builds on previous NERC-funded projects including the Ethiopia Afar Geoscientific Lithospheric Experiment (EAGLE), the Afar Rift Consortium (ARC) and Airborne Research and Survey Facility (ARSF) data acquisition over Afar and Ethiopian rift volcanoes.
These projects focussed on magmatism and rifting; RiftVolc will focus on volcanoes and volcanic plumbing systems in three work packages to address fundamental questions, including:
what has driven eruptions over geological timescales?
what controls the active magmatic system and volcanic unrest?
what are the potential threats from future volcanic activity?
An improved understanding of the evolution of volcanic systems, gained from finding the answers to the first two questions, will provide the foundation on which new methods to assess and forecast volcanic hazards from high risk central volcanoes, active rift segments and volcanic fields will be developed to answer the final question.